Prospective Students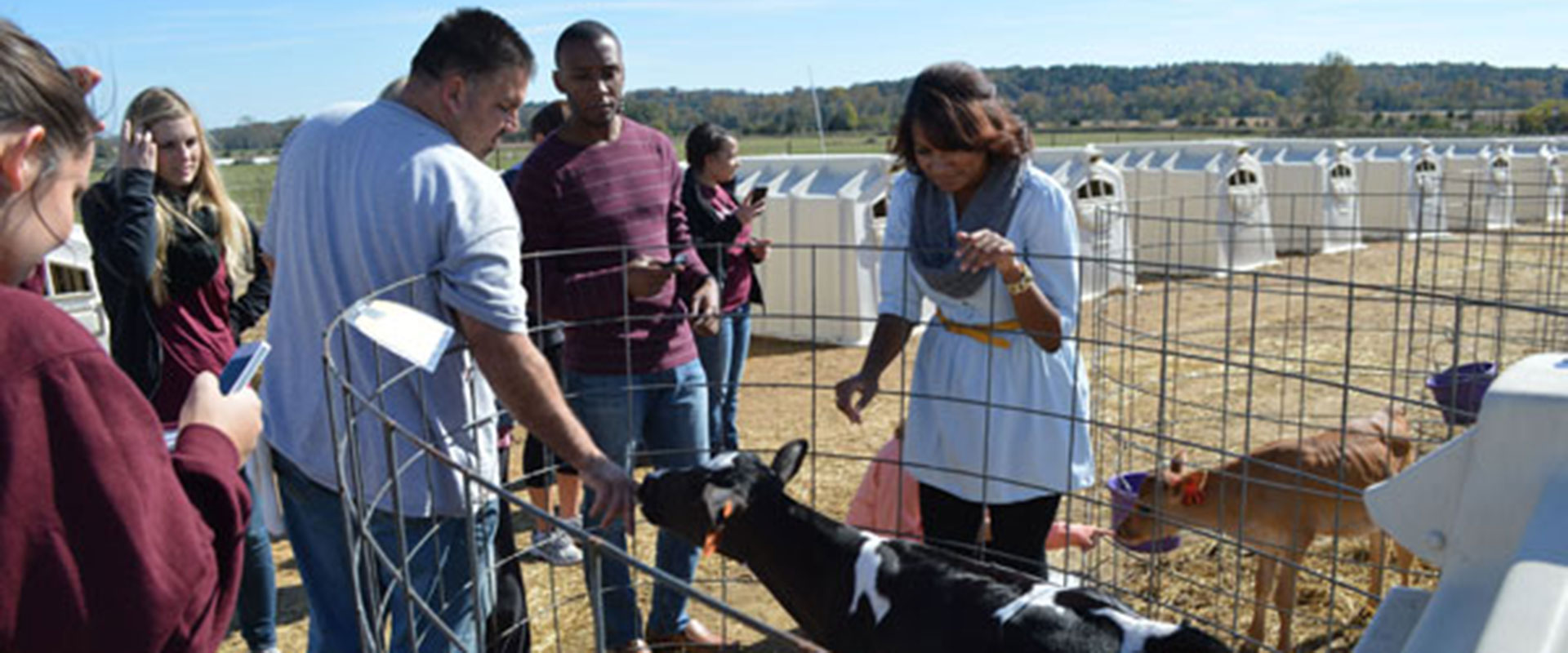 The Animal and Dairy Sciences Curriculum is designed to give students essential instruction and practical experience in the science and business of animal agriculture. Courses provide training in the areas of breeding, nutrition, growth and development, reproductive and lactational physiology, marketing, management, evaluation, muscle foods and dairy products processing as related to livestock species. Students may pursue one of several concentrations such as: Science/ Veterinary Science, Equine Science and Production, Meat Animal Science and Production, or Dairy Science and Production. Students pursuing admission to the College of Veterinary Medicine or the Graduate School should choose the Science/Veterinary Science concentration. The Science/Veterinary Science concentration allows students to take support courses in the sciences that will prepare the veterinary and graduate student for the professional programs in the CVM or Graduate School. Students interested in a career in animal production/management should choose Equine Science and Production, Meat Animal Science and Production, or Dairy Science and Production.
Minors
A minor is available in Animal and Dairy Sciences by completing a minimum of 17 hours of specified ADS courses. Requirements include an introductory course, an evaluation course, a physiology course, 5 to 7 hours of production courses and either a breeding course or a nutrition course. See an ADS advisor for a complete list of approved courses.
Scholarships
Approximately $20,000 in annual scholarships are awarded by the Department each year. Please visit the scholarship page to apply.
Activities, Clubs, Organizations
The Department of Animal and Dairy Sciences encourages its students to take advantage of the many experiences offered by the departmental student organizations and teams. Clubs are a great way to develop leadership skills and to learn about the various animal industries. Visit the organizations page to find out more.
Transfer Students
The Mississippi Institutions of Higher Learning has developed articulation agreements which contains programs of courses appropriate for transfer for community/junior college students who attend Mississippi's eight public universities. Each university will accept courses as listed on the particular transfer program without loss of credit toward the conclusion of the four-year degree. It is intended that this articulation agreement be a minimum program transfer for all students moving from the community/junior college to the university system, as well as moving between universities in the system, acting as a "safety net" for transfer students. This guide is available via pdf from the Mississippi Institutions of Higher Learning. For courses which would transfer for credit to the Animal Sciences degree, please see page 25 of the transfer guide.
Careers
Animal and Dairy Sciences is a multidisciplinary science that focuses on livestock and companion animal growth, health and safety, as well as food and fiber production. It is estimated that nearly 9 billion people will inhabit the earth by 2025. Professionals in the diverse fields of animal and dairy sciences wish to provide healthy and wholesome food as well as quality fiber products to support the growing population. Majoring in Animal and Dairy Sciences will give students the education and experience needed to be successful in areas such as feeding and nutrition, reproductive physiology and breeding management, biotechnology, and sales and marketing. Course offerings are structured to provide a wide range of career choices. The curricula is a balance of basic and applied sciences that provides the training necessary for a career in the livestock agriculture business. In addition, the training prepares students for advanced careers in law, business, medicine, and veterinary sciences. Listen to an interview by undergraduate coordinator Jessica Graves about the options available to graduates in Animal and Dairy Sciences, as featured on Farm and Family Radio.
Solving Real World Problems
Students in the Animal and Dairy Sciences Senior Seminar class get an opportunity to address real problems facing the animal agriculture sector. Working as groups, the students sought guidance from ADS and other MSU faculty members to determine the 10 greatest challenges associated with animal agriculture that have local and global impacts. The students then did a comprehensive literature search, read and presented the most relevant articles, and then developed a review article. The manuscript is expected to be published in a peer reviewed scientific journal where all of the students in the class will be equally contributing first authors. Listen to an interview of the students, featured on Farm and Family Radio.
Useful Information