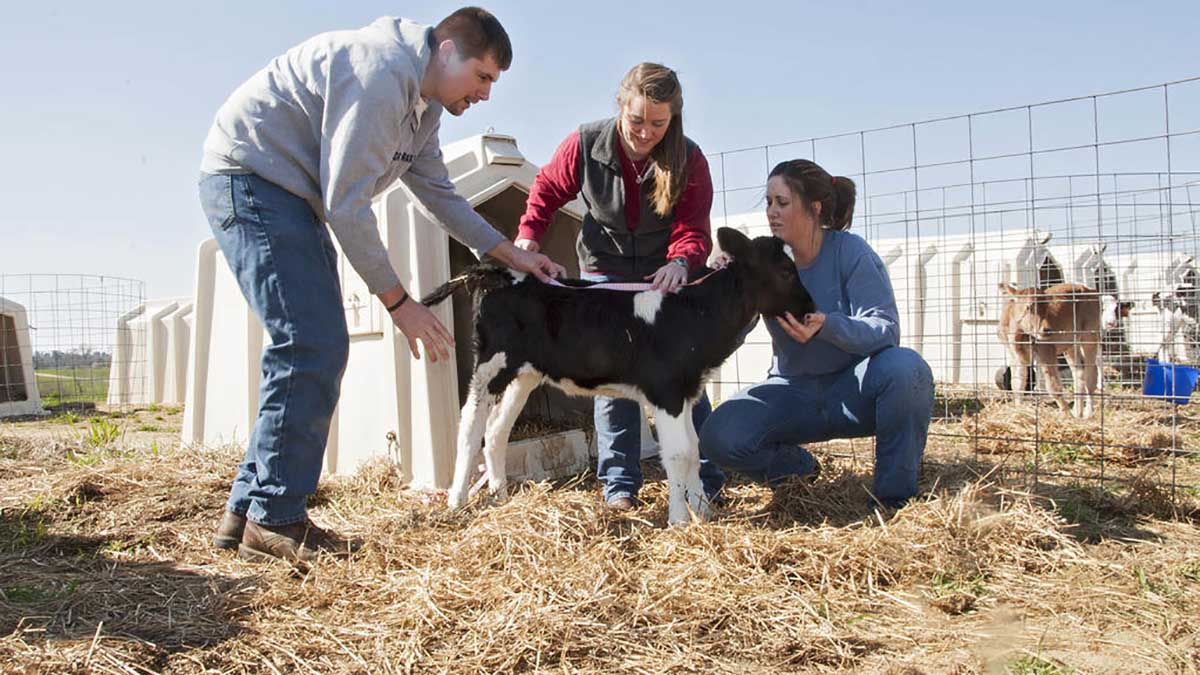 ---
---
Master of Science and Doctor of Philosophy
The Animal and Dairy Science program offers graduate study toward the Master of Science (thesis and non-thesis options) in Agriculture with a concentration in Animal and Dairy Science and Doctor of Philosophy in Agricultural Sciences with a concentration in Animal and Dairy Science.
The Master of Science in Agriculture with a concentration in Animal and Dairy Science is now available online. The program curriculum is based on a total of 30 credit hours. The program is 100% online. Master of Agriculture students must also successfully complete a defense style oral examination, which can be done over Skype. Find out more!
---
Admission Criteria
A minimum of 3.00 GPA and the GRE is required for all programs (Master of Science thesis and non-thesis option and Doctor of Philosophy). Individual faculty serving as major professors may have additional requirements for students they advise. Therefore, it is advisable that a prospective student contact faculty with whom he/she is interested in working to determine if they have additional admission requirements. An international applicant is required to have a TOEFL (Test of English as a Foreign Language) score of 575 PBT (84 iBT) or an IELTS (International English Language Testing Systems) score of 7.0 or higher to be considered for admission.
---
Prerequisite and Core Courses
For the master's degree in Agriculture with a concentration in Animal Science, the student must have completed or will be required to complete in addition to the graduate coursework, 9 credit hours (4000 level or above) of animal/dairy sciences courses. These 9 credit hours must include at least one course in breeding, nutrition, or reproduction and at least one course in a species-specific production system. All students are expected to demonstrate a working knowledge of the Animal and Dairy Sciences field. Opportunities to meet this expectation include: audit additional animal sciences courses (below 4000 level), serve as a teaching assistant for Introduction to Animal Science, or attend departmental journal clubs. Students not holding a degree in Animal or Dairy Sciences (or related field) will be required to do at least one of the above, as directed by the major advisor. Any undergraduate courses would not be included in the program of study.
In addition to meeting the prerequisite requirements described above, students are required to complete 2 statistics courses, 1 biochemistry course, and 2 semesters of a graduate seminar course (3 semesters for doctoral students). All graduate students must submit a written research proposal to their committee members, must present an oral proposal of their planned research before the project starts and during the first semester, and must complete requirements of the Graduate School including exam and defense requirements.
---
Completion Requirements
M.S. thesis and Ph.D. candidates are required by the Department of Animal and Dairy Sciences to submit a written proposal of the intended research area during the first year of the graduate program, in addition to the submission of an annual progress report of research, teaching, extension and service activities, and a final written and oral presentation of the thesis or dissertation work. For the non-thesis M.S. program, students are required to complete 30 hours of coursework as approved by their graduate committee, write a scholarly research paper (the topic and content to be approved by the student's graduate committee), and complete an oral examination based on their coursework. For a Ph.D. candidate, an oral and written preliminary/comprehensive examination will be administered by the student's graduate committee in accordance with the Office of the Graduate School guidelines prior to the submission or defense of dissertation research.