News
JOB Announcement: Assistant Herder
08/14/2023
---
JOB Announcement: Meat Laboratory Manager
05/15/2023
---
JOB Announcement: Assistant Herder
05/15/2023
---
Robot Roundup: Autonomous cattle herding studied by MSU scientists may be game changer
05/05/2023
---
JOB Announcement: Assistant Herder
04/12/2023
---
2023 Animal and Dairy Sciences Alumni Event
04/03/2023
---
MSU Department of Animal and Dairy Sciences announces Bratcher as new head
04/03/2023
---
JOB Announcement: Extension Associate
11/07/2022
---
MSU's Pittman among country's youngest livestock judging coaches
10/07/2022
---
JOB Announcement: Assistant Herder at the MAFES Dairy Unit
07/18/2022
---
MSU animal and dairy science postdoc receives early career award
06/30/2022
---
MSU faculty, students named to MANRRS national executive board
05/25/2022
---
MSU equestrian team gallops to historic season
05/20/2022
---
Speak chosen for Fulbright UK Summer Institute
05/11/2022
---
Our People: David Bostrom
05/09/2022
---
MSU student accepted into National Pork Board Scholars Program
04/25/2022
---
Extension destigmatizes mental health issues, one conversation at a time
04/12/2022
---
Herd Mentality: MAFES Beef Unit herdsmen put cattle first
03/16/2022
---
2022 CALS Distinguished Alumni Fellow: Keylon Gholston
03/10/2022
---
CASE STUDY: "Meat"-ing the Demand
02/25/2022
---
February Student Spotlight - Maliq Holmes
02/22/2022
---
Extension beef cattle specialist receives prestigious honor
01/31/2022
---
MSU students selected for nationwide meat science program
01/03/2022
---
Our People: Maya Harlow
11/23/2021
---
MSU meat scientists showcase leadership during international conference
08/25/2021
---
MSU's Devost-Burnett joins leadership of national organization expanding diversity in ag, natural resources
07/13/2021
---
MSU honors outstanding graduate students, world-class faculty
04/20/2021
---
Leaders in Ag: Sammy Blossom
03/24/2021
---
Riding the Range | Animal and Dairy Sciences newsletter Issue 9
12/18/2020
---
Our People: Jessica and Kenneth Graves
12/14/2020
---
Riding the Range | Animal and Dairy Sciences newsletter Issue 8
10/07/2020
---
Riding the Range | Animal and Dairy Sciences newsletter Issue 7
08/07/2020
---
Riding the Range | Animal and Dairy Sciences newsletter Issue 6
07/10/2020
---
Riding the Range | Animal and Dairy Sciences newsletter Issue 5
06/19/2020
---
Riding the Range | Animal and Dairy Sciences newsletter Issue 4
05/22/2020
---
Riding the Range | Animal and Dairy Sciences newsletter Issue 3
04/17/2020
---
Riding the Range | Animal and Dairy Sciences newsletter Issue 2
04/10/2020
---
Riding the Range | Animal and Dairy Sciences newsletter Issue 1
03/20/2020
---
Animal and Dairy Sciences News and Current Events, Volume 131
02/07/2020
---
Animal and Dairy Sciences News and Current Events, Volume 130
12/20/2019
---
Animal and Dairy Sciences News and Current Events, Volume 129
11/22/2019
---
Animal and Dairy Sciences News and Current Events, Volume 128
11/08/2019
---
Animal and Dairy Sciences News and Current Events, Volume 127
10/18/2019
---
Animal and Dairy Sciences News and Current Events, Volume 126
08/09/2019
---
Animal and Dairy Sciences News and Current Events, Volume 125
07/12/2019
---
Animal and Dairy Sciences News and Current Events, Volume 124
07/03/2019
---
Animal and Dairy Sciences News and Current Events, Volume 123
06/21/2019
---
Animal and Dairy Sciences News and Current Events, Volume 122
05/03/2019
---
Animal and Dairy Sciences News and Current Events, Volume 121
04/26/2019
---
Animal and Dairy Sciences News and Current Events, Volume 120
04/19/2019
---
Animal and Dairy Sciences News and Current Events, Volume 119
04/12/2019
---
Animal and Dairy Sciences News and Current Events, Volume 118
04/05/2019
---
Animal and Dairy Sciences News and Current Events, Volume 117
03/22/2019
---
Animal and Dairy Sciences News and Current Events, Volume 116
03/08/2019
---
Animal and Dairy Sciences News and Current Events, Volume 115
03/01/2019
---
Animal and Dairy Sciences News and Current Events, Volume 114
02/15/2019
---
Animal and Dairy Sciences News and Current Events, Volume 113
02/08/2019
---
Animal and Dairy Sciences News and Current Events, Volume 112
02/01/2019
---
Animal and Dairy Sciences News and Current Events, Volume 111
01/25/2019
---
Animal and Dairy Sciences News and Current Events, Volume 110
01/18/2019
---
Animal and Dairy Sciences News and Current Events, Volume 109
12/14/2018
---
Animal and Dairy Sciences News and Current Events, Volume 108
11/30/2018
---
Animal and Dairy Sciences News and Current Events, Volume 107
11/21/2018
---
Animal and Dairy Sciences News and Current Events, Volume 106
11/16/2018
---
Animal and Dairy Sciences News and Current Events, Volume 105
11/09/2018
---
Animal and Dairy Sciences News and Current Events, Volume 104
11/02/2018
---
Animal and Dairy Sciences News and Current Events, Volume 103
10/26/2018
---
Animal and Dairy Sciences News and Current Events, Volume 102
10/05/2018
---
Animal and Dairy Sciences News and Current Events, Volume 101
09/28/2018
---
State beef industry enjoys good times
09/21/2018
---
MSU provides cattle expo for area producers
09/21/2018
---
Animal and Dairy Sciences News and Current Events, Volume 100
09/14/2018
---
Animal and Dairy Sciences News and Current Events, Volume 99
09/07/2018
---
Animal and Dairy Sciences News and Current Events, Volume 98
08/10/2018
---
Animal and Dairy Sciences News and Current Events, Volume 97
08/03/2018
---
Animal and Dairy Sciences News and Current Events, Volume 96
07/27/2018
---
Animal and Dairy Sciences News and Current Events, Volume 95
07/06/2018
---
Our People: Derris Devost-Burnett
07/02/2018
---
Animal and Dairy Sciences News and Current Events, Volume 94
06/29/2018
---
Animal and Dairy Sciences News and Current Events, Volume 93
06/22/2018
---
Animal and Dairy Sciences News and Current Events, Volume 92
06/15/2018
---
Animal and Dairy Sciences News and Current Events, Volume 91
06/08/2018
---
Animal and Dairy Sciences News and Current Events, Volume 90
06/01/2018
---
Animal and Dairy Sciences News and Current Events, Volume 89
05/25/2018
---
Animal and Dairy Sciences News and Current Events, Volume 88
05/18/2018
---
Animal and Dairy Sciences News and Current Events, Volume 87
05/11/2018
---
MSU professorship focuses on beef cattle production in the Southeast
05/07/2018
---
Animal and Dairy Sciences News and Current Events, Volume 86
05/04/2018
---
Animal and Dairy Sciences News and Current Events, Volume 85
04/27/2018
---
Animal and Dairy Sciences News and Current Events, Volume 84
04/20/2018
---
Animal and Dairy Sciences News and Current Events, Volume 83
04/13/2018
---
Animal and Dairy Sciences News and Current Events, Volume 82
04/06/2018
---
Animal and Dairy Sciences News and Current Events, Volume 81
03/23/2018
---
Animal and Dairy Sciences News and Current Events, Volume 80
03/09/2018
---
Animal and Dairy Sciences News and Current Events, Volume 79
03/01/2018
---
Animal and Dairy Sciences News and Current Events, Volume 77
02/23/2018
---
Animal and Dairy Sciences News and Current Events, Volume 76
02/09/2018
---
Animal and Dairy Sciences News and Current Events, Volume 75
01/26/2018
---
Animal and Dairy Sciences News and Current Events, Volume 74
01/12/2018
---
Animal and Dairy Sciences News and Current Events, Volume 72
12/01/2017
---
Animal and Dairy Sciences News and Current Events, Volume 71
11/17/2017
---
Animal and Dairy Sciences News and Current Events, Volume 70
11/10/2017
---
Animal and Dairy Sciences News and Current Events, Volume 69
10/27/2017
---
Animal and Dairy Sciences News and Current Events, Volume 68
10/20/2017
---
State equine association names room in MSU Animal and Dairy Sciences Building
10/18/2017
---
Animal and Dairy Sciences News and Current Events, Volume 67
10/13/2017
---
Animal and Dairy Sciences News and Current Events, Volume 66
10/06/2017
---
Animal and Dairy Sciences News and Current Events, Volume 65
09/29/2017
---
Animal and Dairy Sciences News and Current Events, Volume 64
09/22/2017
---
Breakfast on the Farm set for Oct. 27-28
09/21/2017
---
Animal and Dairy Sciences News and Current Events, Volume 63
09/15/2017
---
Animal and Dairy Sciences News and Current Events, Volume 62
09/08/2017
---
China beef market access will help cattle producers
09/08/2017
---
Animal and Dairy Sciences News and Current Events, Volume 61
09/01/2017
---
Animal and Dairy Sciences News and Current Events, Volume 60
08/25/2017
---
Animal and Dairy Sciences News and Current Events, Volume 59
07/28/2017
---
Animal and Dairy Sciences News and Current Events, Volume 58
07/14/2017
---
Animal and Dairy Sciences News and Current Events, Volume 57
06/30/2017
---
Animal and Dairy Sciences News and Current Events, Volume 56
06/23/2017
---
Animal and Dairy Sciences News and Current Events, Volume 55
06/09/2017
---
Animal and Dairy Sciences News and Current Events, Volume 54
05/26/2017
---
Animal and Dairy Sciences News and Current Events, Volume 53
05/19/2017
---
Animal and Dairy Sciences News and Current Events, Volume 52
04/28/2017
---
MSU clinic tackles barrel racing skills
04/26/2017
---
MSU hosts May 20 dairy open house
04/26/2017
---
Animal and Dairy Sciences News and Current Events, Volume 51
04/21/2017
---
Our People: Zachary Mason
04/17/2017
---
Animal and Dairy Sciences News and Current Events, Volume 50
04/13/2017
---
Animal and Dairy Sciences News and Current Events, Volume 49
04/07/2017
---
MSU researcher Lemley chosen for major regional recognition
04/05/2017
---
MSU Extension offers Horse Management 101
03/10/2017
---
Genomic testing can improve state dairy herds
03/08/2017
---
Extension hosts clinics for 4-H Horse Show classes
02/16/2017
---
Animal scientist will lead research, extension center
01/27/2017
---
Solutions for Major Challenges in Goat & Sheep Production
01/05/2017
---
Animal and Dairy Sciences News and Current Events, Volume 48
12/09/2016
---
Animal and Dairy Sciences News and Current Events, Volume 47
12/02/2016
---
Animal and Dairy Sciences News and Current Events, Volume 46
11/18/2016
---
Animal and Dairy Sciences News and Current Events, Volume 45
11/11/2016
---
Animal and Dairy Sciences News and Current Events, Volume 44
11/04/2016
---
Annual MSU horse auction takes bids starting Nov. 14
11/04/2016
---
Animal and Dairy Sciences News and Current Events, Volume 43
10/28/2016
---
Animal and Dairy Sciences News and Current Events, Volume 42
10/21/2016
---
State's hay directory helps drought-affected producers
10/19/2016
---
Animal and Dairy Sciences News and Current Events, Volume 41
10/14/2016
---
Animal and Dairy Sciences News and Current Events, Volume 40
10/07/2016
---
Animal and Dairy Sciences News and Current Events, Volume 39
09/30/2016
---
Cattle prices falter despite good news
09/30/2016
---
MSU leads Western horse riding clinics in Europe
09/29/2016
---
MSU offers an expo to cattle producers
09/29/2016
---
Animal and Dairy Sciences News and Current Events, Volume 38
09/23/2016
---
Animal and Dairy Sciences News and Current Events, Volume 37
09/16/2016
---
Animal and Dairy Sciences News and Current Events, Volume 36
09/02/2016
---
Animal and Dairy Sciences News and Current Events, Volume 35
08/26/2016
---
Animal and Dairy Sciences News and Current Events, Volume 34
08/12/2016
---
Animal and Dairy Sciences News and Current Events, Volume 33
07/15/2016
---
Surplus drives down dairy farmer profits
05/27/2016
---
Animal and Dairy Sciences News and Current Events, Volume 31
05/27/2016
---
Animal and Dairy Sciences News and Current Events, Volume 30
05/20/2016
---
Animal and Dairy Sciences News and Current Events, Volume 29
05/13/2016
---
Animal and Dairy Sciences News and Current Events, Volume 28
05/06/2016
---
Beef Unit Field Day
04/20/2016
---
Beef and forage field day set for May 21 in Tylertown
04/19/2016
---
Animal and Dairy Sciences News and Current Events, Volume 25
04/15/2016
---
Animal and Dairy Sciences News and Current Events, Volume 24
04/08/2016
---
Animal and Dairy Sciences News and Current Events, Volume 22
03/11/2016
---
Animal and Dairy Sciences News and Current Events, Volume 21
03/04/2016
---
Animal and Dairy Sciences News and Current Events, Volume 20
02/26/2016
---
Animal and Dairy Sciences News and Current Events, Volume 19
02/19/2016
---
MSU horse judging team earns national recognition
12/03/2015
---
First MSU horse judging team places in national contest
10/19/2015
---
MSU Livestock Judging Team returns from Keystone International Livestock Exhibition
10/09/2015
---
Pasture-raised pork grows in popularity in Mississippi
09/17/2015
---
MSU professor to lead national beef organization
06/29/2015
---
Hay, forage producers wage war on fire ants
05/19/2015
---
Kindergartners enjoy 'Afternoon on the Farm'
05/06/2015
---
MSU introduces new equestrian club sport
04/28/2015
---
Dates set for MSU livestock judging camps
04/21/2015
---
New MSU beef specialist plans educational focuses
04/14/2015
---
Beef Unit Field Day highlights research
03/27/2015
---
National beef symposium heads to Biloxi in 2015
02/19/2015
---
New equine specialist joins MSU Extension
01/21/2015
---
Conference marks 25 years of educating dairy farmers
12/22/2014
---
Short supplies, high demand boost cattle producer profits
12/19/2014
---
Bulls contribute to MSU auction
11/06/2014
---
Equine lessons continue at MSU horse auction
10/21/2014
---
ADS student to work in Vietnam
10/16/2014
April McCain, an Animal Sciences Graduate student at MSU, will spend the spring semester in Vietnam working as a Borlaug Fellow. She is conducting the first safety survey on meat and poultry products in Vietnam.




---
MSU student researcher presents findings
08/08/2014
Blaire Fleming, an undergraduate research assistant in the Department of Animal and Dairy Sciences, presented her project titled "Effects of dietary melatonin supplementation on total serum nitrates and antioxidant capacity of late gestating Holstein heifers" at the 2014 Undergraduate Research Symposium. Ms. Fleming placed second in the oral presentations category under the biological sciences discipline. In addition, Ms. Fleming presented a poster titled "Effects of supplementing Holstein heifers with dietary melatonin during late gestation on serum antioxidant capacity and anti-Müllerian hormone of offspring" at the Joint Annual Meeting in Kansas City, MO. Ms. Fleming is working under the guidance of Dr. Caleb Lemley.
---
MSU hosts young animal scientists
07/26/2014
---
Ph.D. Graduate Student Position
07/22/2014
---
Record livestock prices create curious dilemma
07/11/2014
---
Summer in South Africa widened students' horizons
06/03/2014
---
Extension Service teams assess ag disaster sites
05/02/2014
---
MSU Livestock Judging Team at "All East" contest
04/15/2014
The MSU Livestock Judging Team wrapped up the spring season by receiving awards at the "All East" contest hosted by Purdue University in West Lafayette, IN April 10-12, 2014! Matt Janzen was recognized as the 10th high individual in swine evaluation. His teammate, Justin Hall was 6th in cattle selection and went on to rank 15th overall in the selection portion of the contest!
---
ADS Banquet
04/04/2014
The Department of Animal and Dairy Sciences held their annual Scholarship Banquet on Friday April 4th, 2014. As in years past, senior students were recognized at the banquet along with fellow underclassmen who were awarded scholarships. Thanks to the generosity of many alumni and friends, the Department was able to award over $22,000 in scholarships this year. This year, students who qualified as Scholars of the American Society of Animal Science were also recognized at the banquet along with the Outstanding Senior Student: Liesel Grossner Schneider, and the Outstanding Graduate Student: Ben Voelz.
---
Youth livestock judging camps coming in June
03/28/2014
A separate day camp on June 6th will be held for younger youth (ages 9-13) as well as adult coaches and volunteer leaders. This day camp will be conducted with an instructional method and level targeting the kids. Coaches will benefit by observing the teaching methods used on the kids, and they?ll learn about the format and note-taking methods used for oral reasons. This should be a day filled with learning for the kids, and it should give coaches ideas and material to take home and develop these new skills in their students. The focus of this camp will be to develop an understanding of the basics of evaluation and judging as well as general note-taking methods. The kids will do NO actual delivery of reasons during this camp. A three-day camp will then be held June 9-11 for older youth (ages 14 and up) and will entail a combination of classroom lectures, live animal evaluation on the farm, oral reasons and lab exercises.

Download more information
---
MSU student places first in Midwest competition
03/27/2014
Blaire Fleming is a 2013 CALS/MAFES undergraduate researcher working with Dr. Caleb Lemley. Ms. Fleming presented her project titled "Effects of dietary melatonin supplementation on total serum nitrates and antioxidant capacity of late gestating Holstein heifers" (JAS 92(2):244) as part of the Midwest American Society of Animal Science undergraduate research contest. Ms. Fleming placed first in this competition.
---
MSU at Houston Livestock Show and Rodeo
03/26/2014
The Mississippi State University Livestock Judging Team has returned home from yet another successful trip! We would like to congratulate team member Justin Hall for ranking 69 out of 130 contestants in the "placing" division at the Houston Livestock Show and Rodeo.
---
MSU Livestock Judging Team
02/28/2014
The MSU Livestock Judging Team celebrates progress after returning home from the San Antonio Stock Show in San Antonio, TX. Now, after having been in three contests, MSU?s Melissa Steichen has ranked among the top half of contestants in placing classes every time out. We congratulate her on a successful performance at San Antonio where she ranked 48th in placings out of 101 contestants from universities across the country!
---
Academic Insight
02/27/2014
Academic Insight was hugely successful this year! Jessica Graves, Undergraduate Coordinator/ Instructor and event coordinator, reported that over 40 students, from 9 different states experienced hands-on activities including:
milking cows
collecting rumen fluid
"branding" horses
Prospective students and their guest had the opportunity to mingle with current students, faculty and staff to gain ?insight? on what the Department has to offer. Many student clubs were represented to provide information on the opportunities to get plugged in. Please check out the photos on our Facebook page.
---
Dairy Team News
01/30/2014
Please join me in congratulating Kenneth Graves and his team on the excellent service that they provide our Department. Due to their hard work and superior farm management skills, the Bearden Research Centers Jersey heard was in the top five in the nation once again as reported by the American Jersey Cattle Association.
Your 2013 AJCA Lactation Average is:
23,835M, 1,177F, 827P on 26 lactations
Nationally overall your herd ranks: 3rd for milk and fat
Among your herd size of 10-39 lactations, you rank:
2nd for milk, 3rd for fat and 5th for protein
Congratulations Kenneth, We really appreciate all that you and your team does for the Department, College and University. - Dr. John Blanton Jr., Professor and Head of Animal & Dairy Sciences
---
Judging Team News
01/30/2014
The Mississippi State University Livestock Judging Team has returned home from a successful trip to the 2014 National Western Stock Show in Denver, CO. We would like to congratulate Melissa Steichen for ranking among the top 20 high individuals in placings!
We invite you to follow us on Facebook for continued updates on our success.


---
Dairy Challenge Team Success
11/22/2013
Congratulations to the Dairy Challenge Team. They recently attended the Southern Regional Dairy Challenge in Baton Rouge, LA and did an outstanding job. At the southern contest the students are broken up into aggregate teams and this year MSU members were on 1st, 2nd, 3rd, 4th, and two 5th place teams. There were 12 teams in total, with almost 60 students representing 11 schools from the Southern region.
The dairy club next will be attending the ADSA Student Affiliate Division Southern Meeting in Blacksburg, VA in January 2014 and the Dairy Challenge team will travel to the national competition in Fort Wayne, IN in April 2014.
---
ADS students participate in Pathways to Possibilities
11/12/2013
---
MSU Dairy Science Club wins big at state fair
10/22/2013
---
Natural horsemanship promotes leadership
10/22/2013
---
MSU horses for sale in first online auction
10/16/2013
---
2013 Animal and Dairy Sciences Alumni Reunion
10/01/2013
---
MSU scientists study reproduction mysteries
08/30/2013
---
Bulldogs enjoy beef dinner, learn about beef industry
08/22/2013
---
MSU associate provost made honorary member of college
08/22/2013
---
Young researchers study reproductive challenges
07/26/2013
---
Field day showcases the White Sand Unit
07/03/2013
---
MSU Livestock Judging Camps
06/03/2013
Two separate camps will be held for livestock judging. The MSU Livestock Judging Camp is for participants 14 and up and will be held July 29-31. A separate Day Camp is for younger participants (ages 9-13) and will be held August 1. Sign up today!
---
Cattle producers turn to MSU for reproduction class
05/10/2013
---
Beef and forage field day set for May 18
04/23/2013
---
ADS Instructor and student honored
04/11/2013
Two CALS/MAFES awards were given to members of the ADS department. Dr. Carolyn Huntington won the 2013 Excellence in Teaching - lower division award for her excellence in teaching primarily freshman in Introduction to Animal Science. Kaitlyn Hardin won the 2013 Excellence in Research award in the undergraduate student division for the research she conducted involving dairy calves. Congratulations to both of them!



---
Spring 2013 awards
04/11/2013
The ADS Annual Scholarship and Awards banquet was held on April 2nd, 2013. During the event, 21 scholarships were awarded to students, totally approximately $18,000. The ability to award these scholarships depends on the contributions of donors and students are extremely appreciative of the support.
---
MSU Block and Bridle attends national convention
04/11/2013
Six students involved in the Block and Bridle club traveled to Ames, Iowa in April for the National Block and Bridle Convention. Over 500 students from 34 schools participated. Students went on tours of industry locations all across Iowa, participated in the Pride of Schools Fair, listened to industry speakers and attended workshops, and attended the banquet where the MSU club received 2nd place for webpage and 5th place for scrapbook. There was even some time for fun, with a concert and a dance in the evenings. Pictured are (l to r) Matt Janzen, Katie Cagle, Cori Webb, Victoria Dixon, Shawna Blau, and Alex Holtcamp.
---
Conference keeps dairy professionals current
12/18/2012
---
MSU horse, beef cattle auction set for Nov. 15
10/31/2012
---
MSU names animal, dairy sciences head
10/30/2012
---
Field day to address beef cattle research
10/24/2012
---
Experts converge to discuss forage
10/24/2012
---
2012 Annual Report
10/22/2012
---
Equestrian Team brings home honors
10/09/2012
The Mississippi State University Equestrian Team had a very successful western riding competition last weekend at North Georgia University in Dahlonega, Georgia. The team consisted of Leigh Beckman, Amanda Havard, Callie Cornelison, Lyndsey Senn, Caroline Garner, and Team Captains Emerald Barrett and Emma Stamps. The team brought home a second, third, fourth, four fifth, and two sixth place ribbons. This show was the start of the show season for the team and is the start of the team showing in a new region against teams from Georgia, Alabama, and South and North Carolina. The next show will be both a western and english show at Berry College on Oct. 20th. A special thanks to graduate teaching assistant Toree Bova for helping out with the team members during riding laboratories and to Brianna Tisdale, ADS senior, Mandy Youngblood, ADS alumni, and Patrick First, ADS alumni and CVM student, for their assistance with practices outside of the classroom. It looks to be a very successful show season in our new region.
---
2012 ADS Newsletter
09/10/2012
---
MSU, science teachers develop genomic lessons
07/19/2012
---
Department Head Position
06/28/2012
---
Spring 2012 Award
06/08/2012
Congratulations to Kenneth Graves, dairy herder, who received the Zacharais Distinguished Service Award.
---
Instructor / Undergraduate Coordinator
05/31/2012
---
Instructor/Livestock Management
05/31/2012
---
Assistant Extension Professor
05/23/2012
---
MSU Dairy Science Club
10/03/2011
Twelve members of the MSU Dairy Science Club took animals from the MSU dairy to exhibit at the Mississippi State Fair Open Dairy Show. The entries from Mississippi State were honored with several top 5 placings, 3 class winners, as well as Junior, Senior, and Grand Champion titles. Each member halter broke, trained, and fitted their own animal for the show. The club also sold t-shirts and helped as needed with the Junior show and special classes. Participants included: Paige Nicholson, Kaitlyn Hardin, Chelsea Meyer, Rachel Howell, Ashleigh Thomas, Stephanie Opp, Kellie Kaletsch, Colby Hardin, Kristin Barnett, Becca Broome, Haley Kerr, and Melissa Steichen.
---
Assistant/Associate Professor-Reproductive Physiology
06/23/2011
---
Assistant Professor - Non-Reminant Nutrition Announcement
05/27/2011
---
2011 ADS Banquet
04/01/2011
Scholarships were awarded to students at the awards banquet in April. Back row, l to r: Jordan Craig, Ryan Andrews, Rachel Montgomery, Taylor King, Reagan Bugg, Ryan Kennedy, Ashleigh Thomas, Rachel Howell, Kaitlyn Hardin, Lacy Priest. Front row, l to r: Emerald Barrett, Kathleen Barton, Cori Webb, Matt Woolfolk, Lanna Durst, Chelsea Meyer.
---
Spring 2011 Awards
04/01/2011
Ms. Ann Leed has recieved both the Upper Division and Overall 2011 CALS Excellence in Teaching Award
Dr. Carolyn Huntington has received the 2011 Jefcoat Excellence in Advising Award for faculty and the 2011 National Academic Advising Association Outstanding Advising Award for faculty
Mr. Kenneth Grave, Dairy Herdsman, has received the MAFES Research Support Staff Award
Dr. Peter Ryan has received the 2011 MAFES Outstanding Publication Award
Dr. Erdogan Memili has received the 2011 MAFES/CALS Faculty Research Award
---
MSU hosts Southern Regional Dairy Challenge
11/01/2010
Mississippi State University hosted the 5th Annual Southern Regional Dairy Challenge Competition in November, 2010. This competition is a 2-day event where students conduct on-farm evaluations, given production and financial data from two local dairy farms. They present their suggestions to a panel of judges from the dairy industry. It was a big undertaking and a great compliment for Mississippi State to be chosen as host school. This year, we had 15 schools and 70 students compete on two local dairies owned by Jeremy and Beth Graham (Graham Dairy Farm) and Grandy Ladner/Darren McGee (Heritage Dairy Farm). We are very grateful to these producers for opening their farms to the students and allowing them to critique their operations. The students gain valuable experience when they are able to see real farms at that level, and hopefully the producers gained helpful suggestions for improvements.
The MSU team of students did great and represented the state well! Farm owner Jeremy Graham, team members Rachel Howell (Silver), Kaitlyn Harden (Platinum), Kellie Kaletsch (Gold), Ashleigh Thomas (Gold), McKenzi Hunter (Silver), and farm owner Grandy Ladner are pictured above.
---
2010 Academic Quadrathlon held
11/01/2010
The Department of Animal and Dairy Sciences conducted the 2010 annual Academic Quadrathlon event in November. Many students participated with five teams total and the competition consisted of a laboratory practical, a written exam, an oral presentation and a quiz bowl. The winning team (pictured above) were Charles Huckaby, Matt Woolfolk, Angel Henderson, and Monty Stanley.
---
2010 ADS Banquet
04/01/2010
The banquet is a time for our clubs to share about their activities held in the past year as well as the announcements of all our scholarship winners. The 2010 scholarship recipients are pictured.
---
2010 Academic Quadrathlon
02/01/2010
This year's Academic Quadrathlon team placed 3rd in competition at the Southern Section meeting of the American Society of Animal Science held in Florida in February. Congratulations to the team and their coach, Dr. Brian Rude! Team members (left to right) Samantha Lesniewski, Becky Telle, Garrett Steede, Steven Davidson and Coach Dr. Brian Rude.
---
2009 Department of Animal and Dairy Sciences Reunion
09/01/2009
Held in September on campus, the reunion brought together former students and faculty of the department, as well as current students, staff and faculty. Along with food and fellowship, visitors got to tour our animal facilities on campus and brush up on their animal judging skills. Alumnus Andy Williamson and his band The Town Square Pickers entertained us with live music. It was great to see old friends and we look forward to having another reunion in a few years!
---
Quick Links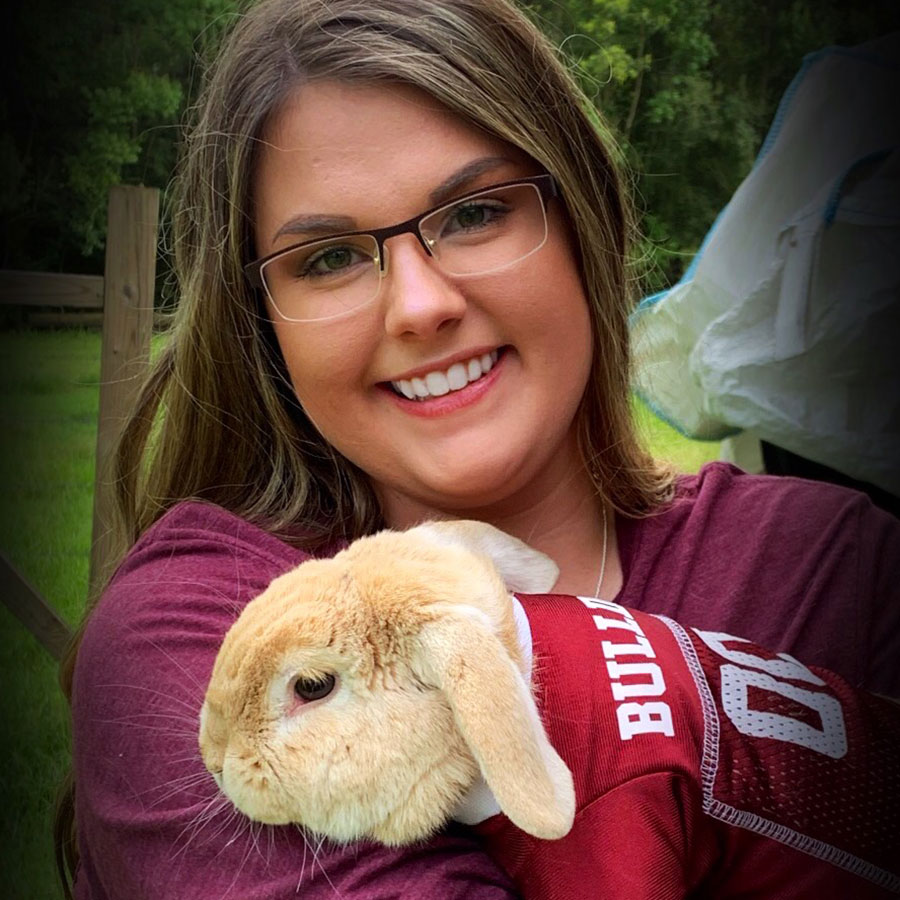 STUDENT SPOTLIGHT
Meet Madalyn Jennings